Find a Carrier Dealer Near You
Air Conditioning Repairs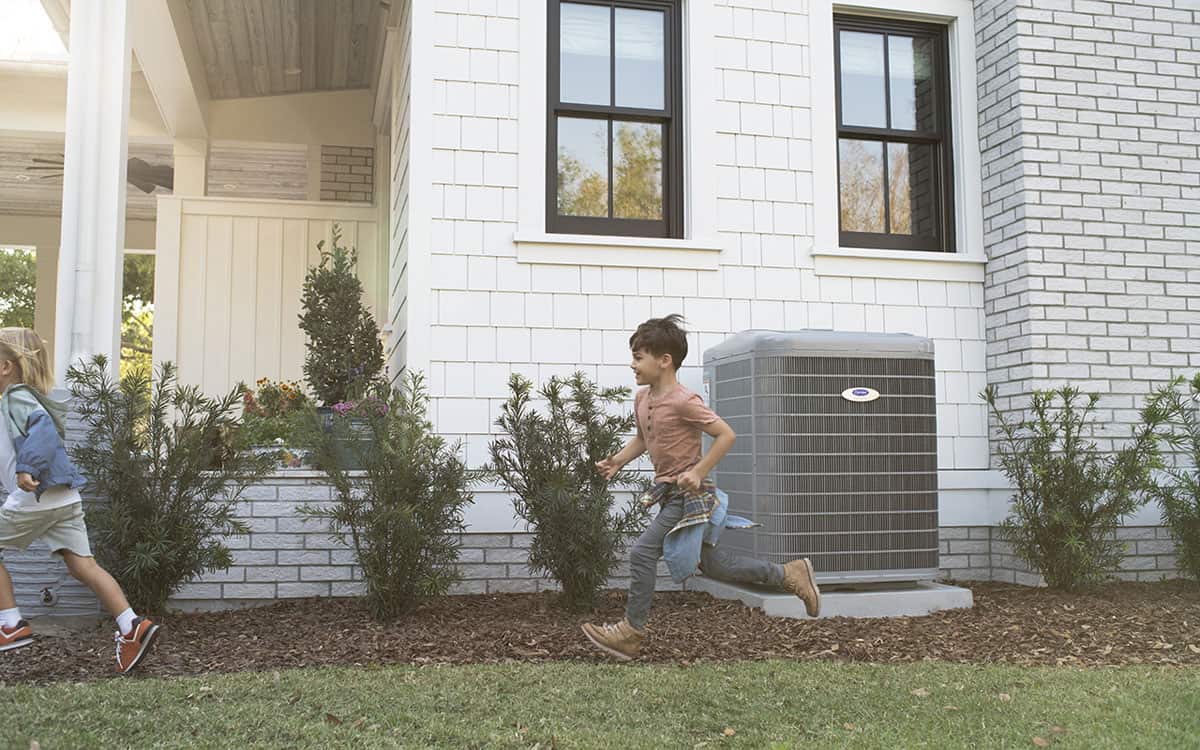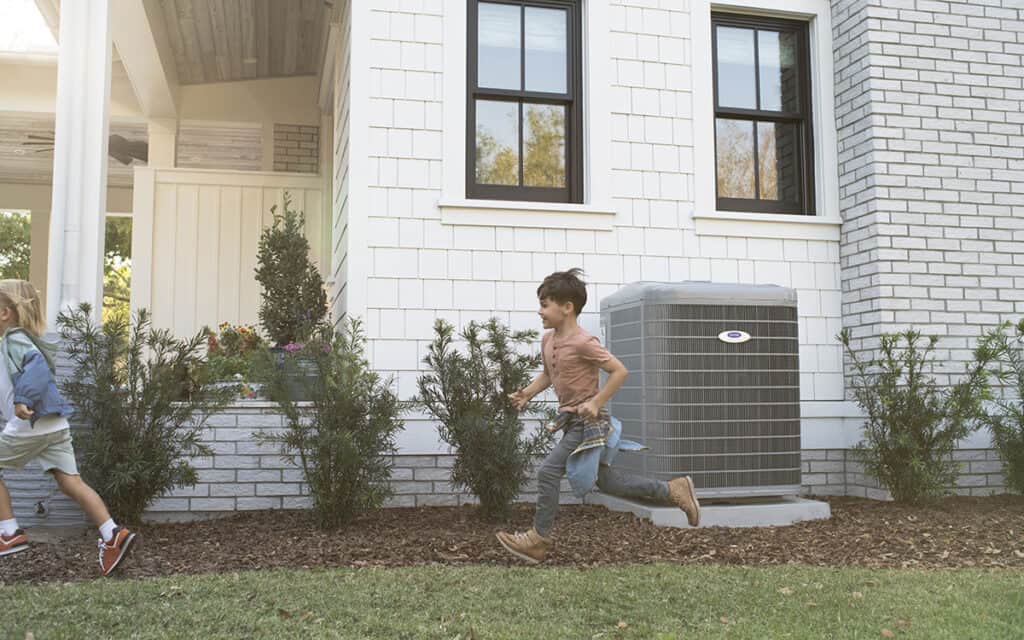 Whether there's a minor problem or a more significant issue with your cooling system, you can rest assured your Carrier dealer will promptly address it. Enjoy peace of mind knowing you are partnering with one of the most established HVAC companies in the country. Carrier has been adding comfort to homes and businesses for over 100 years.
Here are some common signs that your air conditioning system needs repairs:
Your system is blowing out warm air.
You notice a leak or moisture building up by your system.
You hear your system making an unusual noise.
Your system has a strange or concerning smell.
Your home is more humid than usual.
Air Conditioning Maintenance
Preventing problems with your air conditioning unit begins with planned maintenance. If you struggle to keep up with regular maintenance visits, be sure to start now and ask your Carrier dealer about maintenance programs. That way, you can stay on track with the important care your system needs to function at peak capacity.
Need a Carrier Dealer for Air Conditioning Service?
Adding an efficient air conditioning system to your home is an exciting journey. Carrier Northwest has a network of Carrier dealers to keep your home safe and comfortable. Connect with a Carrier HVAC dealer in Oregon, Washington, Montana, northern Idaho, and Northern California today!
Considering an air conditioning (AC) system upgrade? We depend on our AC units during the hot summers in the Northwest. That means you need a heating, ventilation, and air conditioning (HVAC) system you can rely on when you need it most.
Choosing the perfect air conditioning system for your home is simple as can be—look to Carrier Northwest, and all of the rest can be handled by the best!
Your Carrier dealer has the expertise and training necessary to correctly install your brand new Carrier system, adding comfort and cost savings to your household. Choose a nearby Carrier HVAC dealer in Oregon, Washington, Montana, northern Idaho, and Northern California. Find the expert service you need today for air conditioning installation, replacement, repair, or maintenance.
Place Your Trust in Our Carrier Dealers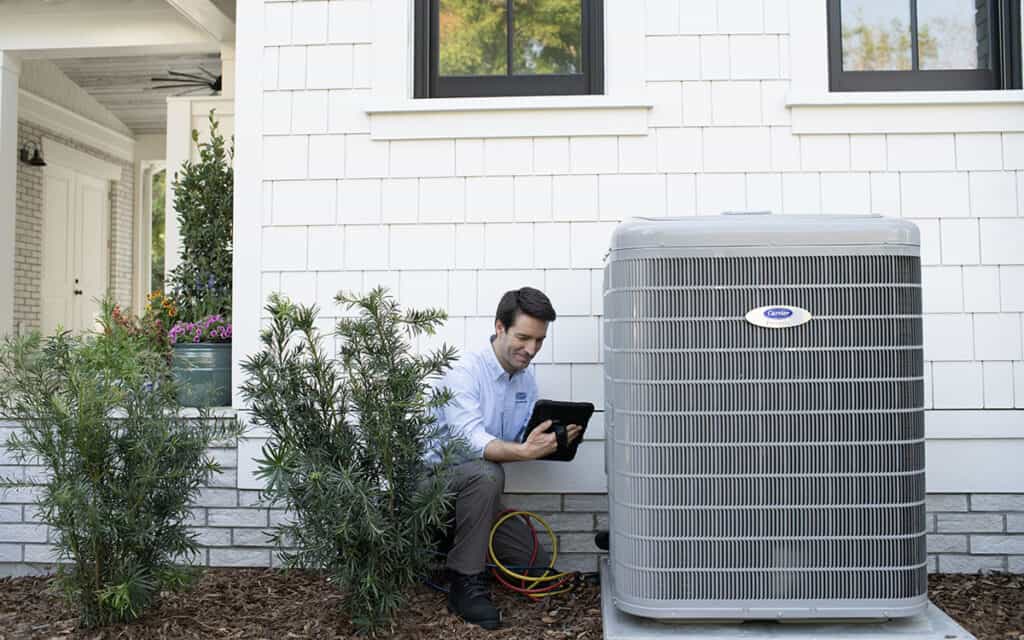 Carrier Northwest provides you with a directory of trusted Carrier HVAC dealers in your area so that you will receive top HVAC service. Carrier dealers take pride in their craftsmanship and dedication to quality. Begin your journey to ultimate comfort and satisfaction today. Happy families and healthy homes start here!
Air Conditioning Installation
A Carrier HVAC dealer can help you choose the best air conditioning model for your home—it's what they do. Your Carrier HVAC dealer will take accurate load calculations and evaluate your home to deliver the right system for your budget and needs.
Enjoy enhanced indoor air quality (IAQ), optimal energy efficiency, and reliability with the help of Carrier. You can trust the knowledgeable and highly skilled air conditioning professionals in our network with all of your heating and cooling needs.
Find a Carrier Dealer Near You
How Do I Choose the Right AC for My Home?
Look through our directory and reach out to a nearby Carrier dealer. Every Carrier dealer is knowledgeable about the different air conditioning system models available today and can recommend a system that meets the needs of your home.
Choose between a single-stage, two-stage, or variable-speed model. Carrier will help you choose a unit that fits your home perfectly. An air conditioner too large for the size of your home will cycle too frequently, while an undersized model will struggle to deliver the right amount of comfort.
Air Conditioning Replacement
Is your AC causing you trouble? Are you growing tired of continuously calling someone for repairs? Turn to Carrier dealers for a quality replacement. Carrier HVAC dealers can install a newer model that delivers greater efficiency and comfort. The U.S. Department of Energy (DOE) estimates you can save up to 40 percent in operating costs by replacing an older unit.